Do you believe that the holidays are the best time of the year? We do too! This time of year is made even better when you get to go all out on Christmas decorations to set the mood. To get every inch of your home in the holiday spirit, check out some of our options for holiday lighted water lanterns that are sure to be a showstopper. Whether you prefer traditional decor or are looking for something a little more unique, we have options that you will love to decorate with. Don't start decorating until you've seen a few of our ideas.
Light Up The Season With Holiday Lighted Water Lanterns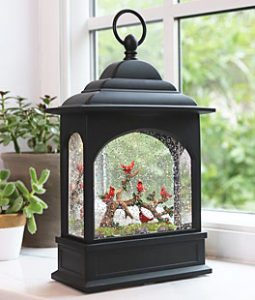 Instead of hanging traditional stockings on the mantel, deck out the area around your fireplace with holiday lighted water lanterns that will light up your house with a natural glow. Let's discuss why so many people love lighted lanterns, and then you can browse some of our options you can add to your collection today!
Why People Love Lighted Lanterns
There are lots of reasons why people love lighted lanterns, especially our holiday-themed ones. They are battery operated or USB adaptable, which means that you don't have to worry about the messy process of actually lighting a lantern.
All of our holiday lighted water lanterns have timers, so you can feel safe knowing that unlike real candles and lanterns, you can go to bed knowing that they will turn themselves off. Turn on one of our lanterns and find a warm LED light shining down on a pleasant winter scene with swirling glitter for a whimsical and dreamy look for the holiday season.
Our lanterns include a variety of shapes and sizes, and themes, so no matter your holiday decorating style, you'll be able to find something that looks great in your home.
General Christmas Themed
Our Christmas themed holiday lighted water lanterns are perfect for everyone who loves to decorate for the holidays. With scenes from the north pole, Santa's sleigh, beautiful images of the nutcracker, and so much more, there are so many great options that will look great in your home during this festive season.
Browse through cozy cottage and red wagon scenes, snow-covered trees, and illuminated villages with glittery snow magically swirling through the winter scene. There is no shaking required to get beautiful lanterns with a soft and subtle snow effect.
Santa Themed Water Lanterns
Nothing says Christmas like Santa! That's why we stocked our inventory full of beautiful and unique Santa themed lantern options that you will love. From Santa riding in a red truck to his sleigh flying over a village, we have winter scenes to match every decor style.
We even have light-up frame options with swirling glitter that you can hang up with ease.
Nativity Scene Holiday Lighted Water Lanterns
Maybe you like your Christmas decorations a little more traditional. Get back to the reason for the season with beautiful nativity scene holiday lighted water lanterns. We even have lanterns that look like snow-frosted churches, complete with swirling glitter and a lovely warm glow.
Turn all of your lanterns on first thing Christmas morning for a warm glow to remind you of what really matters this holiday season.
Snowmen Themed Lanterns
Do you love snowmen as much as we do? Then browse through our snowmen lantern options. From snowmen families playing in the snow to a classic Frosty hanging out with farm animals or Santa, we have a variety of snowmen themed lanterns and light up snowglobes that the whole family will love to display year after year.
Cardinals and Animals
Maybe you're the kind of person who is more drawn to animals and nature than the traditional nativity scene or Santa themed lanterns. We got your back! We have a plethora of cardinal themed holiday lighted water lanterns and other winter scenes that will beautifully suit your holiday decorations.
Plus, we have a variety of lantern style options so that you get exactly what you're looking for. From white to bronze, painted red or matte black, browse through all of our cardinals and animal-themed lanterns today.
Ready To Place Your Order?
Create a unique holiday decoration and enhance your home's beauty with any of our lovely holiday lighted water lanterns. Whether you choose to hang your lantern or use it as a festive centerpiece, you'll love the versatility that comes with our lanterns.
Plus, because holiday lanterns last a long time and can be reused every year, holiday lanterns also make great gifts! Give to a loved one or add to your own collection to enjoy for years to come.
When you're ready to order beautiful and long-lasting lanterns that add a decorative and special touch to your window, table, mantle, and more, reach out to us today! We'd love to make sure you get everything you need in time for the holidays.