Have you ever heard of Uyuni Candles? South America's Uyuni salt flats and the crystal clear night skies they are famous for were the patented Uyuni LED candles' inspiration. The designers wanted to bring the allure of the galaxies and starry skies into the homes of millions around the world.
The isolate salt flats have beautiful clear skies because they have clean air and a lack of light pollution, which led to the creation of clean, smoke-free air of battery-operated candles. When you want a delightful ambiance in your home without the smoke and fire risk, then Uyuni candles are the way to go. They give you the candlelight feeling without any of the harmful chemicals that come with regular wax candles. They even have a real wax surface!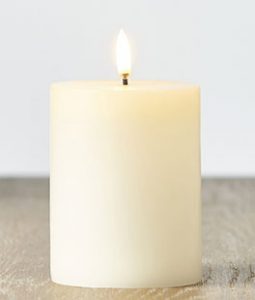 Read on as we discuss some of the options you can choose from when creating a restful and inviting atmosphere with Uyuni candles.
Your Ultimate Guide To Uyuni Candles
We offer a beautiful range of flameless candles with limitless possibilities to suit any room, setting, or occasion. The best part of using Uyuni candles in your display is that they can be turned on and off by remote control. They also have timer options running from 4-10 hours, and they can be dimmed bright or turned down low depending on the mood you want to set. There is also a 6-hour manual timer switch to help you keep your light controlled and conserve battery life.
Plus, these candles are safe to carry and move around because they don't get hot to the touch, and there is no real flame to burn you. Turn them on and leave the room without the stress of having to keep a watchful eye over them.
Pillar Candles
Uyuni Pillar candles are a staple for every home. They look just like real candles and are a neutral color to go with your home. The best part of these candles is that you can feel peace knowing that pets and children can play around them without fearing that they might knock them over accidentally. At Battery Operated Candles, we have various sizes to choose from, so you can build a set with different widths and heights to complete your display.
3 Inch x 5 Inch Ivory Pillar Candle

3 Inch x 7 Inch Ivory Pillar Candle

3 Inch x 9 Inch Ivory Pillar Candle

2 Inch x 4 Inch Ivory Votive Candle

2 Inch x 9.75 Inch Ivory Pillar Candle

2.25 Inch x 9.75 Inch Ivory Pillar Candle

6 Inch x 6 Inch Ivory Triflame Pillar Candle
Taper Candle Set
Taper candles are a classic for every window or dining table display. Classy and elegant, they can add to the overall appeal of any space. The trouble with taper candle sets is that they burn down quickly and can post a fire hazard.
With Uyuni Taper sets, you don't have to worry about regularly replacing the candlesticks instead of focusing on setting the mood when you need to. Choose from a variety of sizes and decide if you need the clip-on versions or not.
11 Inch Ivory Taper Candle Set of 2

6 Inch Clip On Taper Candles Set of 4

11 Inch White Taper Candle Set of 2
Christmas/Holiday Themed
If you're like us, you're probably busting out the candles during the holiday season. When you want to create the glow and ambiance that candles offer without the danger of things catching on fire, then battery operated Uyuni candles are the best way to show your holiday spirit. With Christmas themed versions of both pillar candles and tapered candle sets, you can find exactly what you need to match your current decorations.
2.25 Inch x 9.75 Inch Peppermint Glitter Pillar Candle

11 Inch Peppermint Glitter Taper Candle Set of 2

3 Inch x 5 Inch Red Glitter Pillar Candle

3.25 Inch x 7 Inch Red Glitter Pillar Candle
Order Uyuni Candles From Us Today
We love Uyuni candles because they combine the most refined Danish design elegance with the unique patented flame technology. Their real wax surface gives you the candle look you want but leaves out the risk and chemicals released by standard wax candles.
You'll love the dimming options and the timers so that you can set up a beautiful display all year long and never have to worry about your house catching fire or burning anyone.
At Battery Operated Candles, we are the experts in flameless candles and have the largest selection of battery-operated candles on the market. Whether you're looking for one specific candle to complete your collection or need hundreds for your business or next event, let us be your go-to source. Browse through our collection today and reach out to us if you have any questions. We'd love to make sure you're getting the best candles at the best price!