There are so many great reasons to choose battery operated candles over traditional wax ones. From safety to convenience, it just makes sense that we lean towards a safer and longer lasting option, no matter the occasion. Plus, with the variety of style options that we have here at Battery Operated Candles, you can stock up on battery candles for every season. From traditional style pillar candles to light wreaths, we are sure you will find something you'll love to make your house feel more like home.
Read on as we highlight some of our favorite battery candles and decor options for every season.
Get Unique Battery Candles For Every Season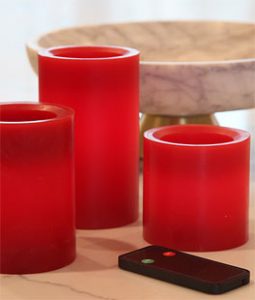 When you're ready to update your home with beautiful and classy battery operated candles and lights and decor, you've found the right place. Browse through some of our options to help you stand out during Spring, Summer, Fall, and Winter.
Springtime brings warmer weather and much needed sunshine after winter. From Easter to the beginning of sports and outdoor events, here are a few ideas to help you stock up battery candles for every season.
Colorful Flameless Candles
Our colorful flameless candles are perfect for springtime. Great for outdoors, these pillar candles have a white LED and 5 hour time that make them perfect for patio settings and outdoor events. With weather-resistant plastic in 5 amazing colors, these battery candles are the perfect complement for all decor themes. Battery candles for every season are the solution you've been seeking. They won't melt in the sun, they won't spill wax if they get knocked over, and they are safe around your children.
Easter Decorations
Easter is a great time to celebrate Spring with your friends and family. Why not go all out with stunning Easter decorations that everyone will love and you can use again and again? From lighted water lanterns with fun little barnyard creatures inside, or our unique outdoor Easter egg tree, we have decor options that fit every personality and can match any home decor style. We even have moving butterfly decor options for a unique and beautiful way to bring spring indoors!
Wreaths
We have several different candle wreaths that add an extra special touch to your pillar candles. Our eucalyptus and cotton candle wreath looks lovely around any of your candles and they are perfect for homes with the popular farmhouse design style. We also have a simple and understated green magnolia leaf grapevine wreath that can be customized with string lights and flowers for your springtime decorations.
Maybe you want something brighter and more colorful when looking for wreaths. We offer three different unique floral wreaths that are perfect for decorating and switching decorations from winter holiday to spring. All of our wreaths are sturdy, great for hanging, and stunning in any room.
Summer Battery Operated Candles
Summer time means we get to spend more time outside, which is why our battery operated candles are the perfect way to get the ambiance that comes with candles – without the worry!
We have so many string light options that turn your outdoor patio space into a magical event. From cafe style bulbs to colonel style lantern lights on a string, we have something to match what you're looking for. Mix and match our moon string lights with our cluster lights for a beautiful light display that all your friends and family will love.
Lanterns
Do you love the lantern look but hate the idea of having to light a fire everytime you want that glow? Our battery operated lanterns are the solution you're looking for. There are dozens of options that help you decorate your next summer outdoor party. From metal lanterns, to those you put your pillar candles into, to hurricane lamps, we have something that will match your previous decor.
Here at Battery Operated Candles, we have so many weatherproof battery candles for every season. Turn your next outdoor party or event into a dreamy candle lit affair, with candles that last in any weather and have a timer so you don't have to worry about turning them on and off. Without having to worry about fire or them turning off if accidentally knocked over, we have pillar candles that offer the perfect base to start your decorations.
Fall Flameless Candles
Fall decorating might be some of our favorites. The weather is changing, and everything feels a little bit cozier and we want to spend more time at home with our families. Browse through some of our fall decor options and make your home even more comfortable and inviting.
Have you seen our textured candle options? Choose from our subtle yet beautiful chalk finish candles, our old fashioned and rustic options, our stunning birch pillar options, or our designer style candles.
If you're tired of plain candle pillars, then our textured options might be the solution you need to round out your home decor.
Tea lights are a classic and popular battery candle option for both event planners and those who want to spruce up their design at home. Great for both indoor and outdoor spaces, our tealights look great as centerpieces or used in floating water for a more romantic look. Whatever you need them for, you can count on our tea lights to last a long time and not burn out like traditional candles.
Maybe you're looking for window display candles to make your home more appealing on the outside. Browse through all of our traditional window display battery operated candles that are known for their durability and their ability to create a soothing atmosphere without being too bright.
Winter Candle Options
With every season comes a great opportunity to decorate. Winter is traditionally the time that we decorate for the holiday and at Battery Operated Candles, we have dozens of beautiful decor options you will love.
Our Christmas candles offer an extra level of class and sparkle to our traditional pillar candles. From Mercury glass to white and red glitter striped, we have beautiful candles to match your current decorations.
In addition to stunning candles, we also carry lighted wreaths, garlands, and trees that are the perfect way to add a little holiday spirit to your home. Choose between traditional and classic to glamourous and flashy, our wreaths, garland, and trees are long lasting and elegant. Hang them indoors or outdoors for a look that everyone will love.
The holidays give us a great excuse to decorate with themed lanterns and Christmas indoor decorations. Choose between table decorations, window displays, candles and wreaths, cluster lights, and even burlap decor. Whatever type of holiday decorations you're looking for, we got it.
Conclusion
Ready to decorate with battery candles for every season? Let us help! We pride ourselves on offering only the best battery operated candles and we have solutions for every style and every personality.
Reach out to us today if you have any questions – we'd love to help you replace your candles with technology that is safer and more efficient.