Flameless, battery operated Remote Control Candles are the modern way to light your home this holiday season. We have a wide selection of remote control candles to satisfy your decorating requirements: Choose a single candle or groups of two and three flameless candles that are controlled from one remote. What could be more easy and convenient?
Here's our remote-ready Cranberry flameless candle. Measuring 3-inches in diameter x 4-inches tall, this battery operated candle from Amazing Flameless features super-bright LED's and a 4-, 6- or 8-hour timer. It's sold with or without a remote control: Use the remote and enjoy easy on/off with the touch of a button. Or, simply set the timer for the desired time. This candle is made of real wax and has a bayberry scent. 4 AA batteries provide about 450 hours of run-time. The cranberry color is lovely during the Christmas season, and perfect for year-round decor.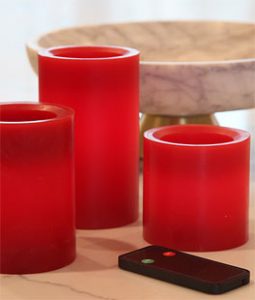 If you choose a candle from Amazing Flameless, their remote control offers a variety of functions. In addition to On/Off, the remote control sets the matching timer function on your remote control candles – 2, 4, 6 and 8-hour run-times. You can also set the candle and light functions, as well as bright and dim – all from your easy chair. This allows you to set remote control candles in hard-to-reach places like bookshelves and ledges, in addition to mantels and table-tops. Use remote control candles as convenient night lights throughout the home.
We offer remote control candles from several manufacturers, all with distinctive features unique to their brand. Choose from fun color changing candles, tiny tea lights with remote control, even a remote control LED candle lantern, complete with a weather-resistant candle so perfect for indoor and outdoor use.
Remote Control Candles are ideal for wedding and event planners, as well as restaurants and churches. We offer great discounts, and you can mix 'n match as well.