The holiday season is here, with Halloween that has been crowned by the Black Friday offers and the forthcoming Christmas climaxing the season in a few days. It's a season of unwinding, a time of reflection where you and family will be retreating to your home. Thus, you need to create the right ambiance in your home by decorating it with flameless battery candles that would serve you perfectly. Choosing battery candles for decoration is the best decision you made. With the right ones, you'll enjoy a great experience but a wrong one would lead to regrets. Get battery candles that are of high quality and at reasonable prices.
Why choose battery candles over any other?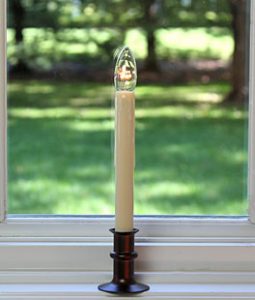 With these kinds of batteries, there is no risk of fire from the rechargeable flame candle. That anxiety of having to spend the sleepless night thinking whether you put off the candle is no more. Whether it's behind the drapes or on your windowsills, you don't have to worry about any incidence of fire. Again, they give that glowing cozy atmosphere without the risk of fire associated with the traditional candles. Whether near the Paper Halloween cutout or the old dry Christmas décor, you can have them for as long as you wish.

Long lifespan
Battery window candles have a long lifespan compared to the flaming candles.Thus, they will give you good service and cut down the cost of having to replenish. Better still, when the batteries run out, you can still replace with new ones. Some of the candles have inbuilt batteries which you can recharge and thus cheap to maintain. Again, they can stand the push and pull that comes with merry-making during thanksgiving ceremonies and other celebrations.
Easy to operate
Unlike the traditional candles that have to be switched on and off all the time, battery candles have timers and thus when it is dark, it turns on automatically. Others have a photocell and this would automatically come on when it is dark. This helps in preserving the battery life while giving you timely lighting.
They are beautiful
When purchasing the holiday battery-operated candles, you can choose any color that matches your house or backyard or that venue for Christmas party. With a good décor specialist, you will get all manner of patterns that would give a perfect appeal. They have no flame and do not melt, something that I annoying with the traditional candles. You don't have to worry about the dirt you'll be dealing with after. With them, your windows become the envy of the neighborhood. In fact, they would give a very good impression of you when you invite those friends for the New Year's celebrations or any other get together.
You can regulate the light
Whether you need a lot of light or just a soft glow, depending on the time of the day or the nature of the celebration, you are at liberty to regulate to the right output. You don't have to bear with bright or dim light, with these, you get what you want.
Enjoy the ambiance that comes with a variety of colors that come with the battery candles. Make your holiday glow by getting whatever type and color of candle you wish.